Merman 101
Merman Biography - Part II
by John Kenrick
(Copyright 2002)
(The images below are thumbnails – click on them to see larger versions.)

Merman all dolled up as Panama Hattie (1940), yet another Cole Porter hit.
Through the 1940s, Merman continued her unbroken string of stage hits. She introduced "Let's Be Buddies" in Cole Porter's Panama Hattie (1940 - 501), a comic romp which cast Merman as a tough bar owner who cleans up her act when she falls in love with a high society diplomat. The first show in more than a decade to top 500 performances, its ensemble included future film stars as Betty Hutton and June Allyson.
Merman's fifth and final Porter musical was Something For the Boys (1943 - 422), a mindless bit of wartime fluff that included the hit "Hey Good Lookin'." The plot involved three cousins inheriting a Texas ranch that happens to sit next to a military base. As one of the lucky trio, Merman discovers her molar fillings can pick up radio signals, and she uses this bizarre talent to save a crippled airplane -- while winning the love of a bandleader-turned-soldier. This convoluted silliness gave Merman plenty of opportunities to deliver her trademark street-smart humor –
SOLDIER: (Admiring Merman's legs) Boy, look at those drumsticks.
MERMAN: How would you like a kick in the teeth from one of those drumsticks?
SOLDIER: How do you like that? And this is the womanhood I'm fighting to protect?
MERMAN: And this is the womanhood I'm fighting to protect!
Merman spent most of World War II working on Broadway, giving war bond concerts and performing for troops in the New York area. She also appeared in Stage Door Canteen, a film set in the Manhattan nightclub where stars performed for a military-only audience throughout the war.
By the time the war was over, Richard Rodgers and Oscar Hammerstein II's Oklahoma! had changed Broadway forever. The mindless musical comedies of the past were being eclipsed by better crafted shows that integrated story, songs and dance. When librettists Herbert and Dorothy Fields came up with the idea of a musical based on the life of famed Wild West sharpshooter Annie Oakley, the great Jerome Kern agreed to compose the score, and Rodgers and Hammerstein stepped in as producers. Kern's unexpected death might have derailed the project, but Irving Berlin was persuaded to give the new kind of musical a try.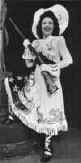 Annie Get Your Gun (1946 - 1,147) was one of the biggest musical comedy hits of all time, the longest running show that Ethel Merman or Irving Berlin would ever be associated with. The score was a virtual one-man hit parade, including "Doin' What Comes Natur'ally," "You Can't Get a Man With a Gun," "They Say It's Wonderful," and "Anything You Can Do." Merman became identified with the role of Annie Oakley, as well as the theatrical anthem "There's No Business Like Show Business." She would perform the song to uninterrupted acclaim for the rest of her career.
Merman had reached her creative peak, and would stay there for years to come. The $28 a week stenographer was now commanding $4,700 a week – more than any other performer on Broadway. Some of Broadway's finest composers were doing some of their finest work for her, and they tended to rave about what she brought to their work. Irving Berlin said, "You'd better not write a bad lyric for Merman because people will hear it in the second balcony." Cole Porter called her "La Merman" and said she sounded "like a band going by." When illness forced Porter out of the public eye in his later years, Merman was one of the very few friends welcomed into his home.
Merman's circle of friends extended from childhood chums still living in Astoria to the Duke and Duchess of Windsor. No matter who Ethel was with, her earthy, street smart approach was the same. When the Duchess danced the night away with an admirer, Merman tapped the former King of England on the shoulder and said, "Hey Duke, get off your royal a** and dance with your wife!" Instead of being offended by such coarse language, the Duke complied. Although a loving mother, Merman had her limits. When her daughter paged through a comic book during a rehearsal of Annie Get Your Gun, Merman snatched the magazine away, saying, "When I'm on stage, nobody reads."

When Ethel Merman and Russel Nype sang Irving Berlin's "You're Just in Love" in Call Me Madam (1950), the nighty encores threatened to send the show into overtime.
Call Me Madam (1950 - 644) spoofed Cold War politics by casting Merman as Sally Adams, a Washington socialite appointed ambassador to a small European principality. There she finds romance and sets off a few political firestorms, all set to songs by Irving Berlin. Merman had "Hostess With the Mostess" and shared the counterpoint showstopper "You're Just in Love" with newcomer Russell Nype. For once, her performance was considered so irreplaceable that she got to repeat her role in the delightful 1953 film version.
Merman's duet with Mary Martin on a 1953 television special drew record ratings and resulted in a best-selling recording. From that point on, Merman remained a popular guest artist on TV specials and variety shows. She starred in abbreviated TV versions of several of her Broadway hits, including Anything Goes (NBC - 1954) and Panama Hattie (NBC - 1954). A lifelong Republican, Merman was a frequent guest at the White House during the Eisenhower administration.
Private Life
As Merman's career moved along with surefire success, her personal life followed a somewhat rockier path. Each of her four marriages ended in divorce. The first, to Hollywood agent Bill Smith, was Ethel's way of escaping from a scandalous affair with married Stork Club owner Sherman Billingsley – it ended in a cordial divorce after less than six months. Next came newspaper executive Robert Levitt, with whom Merman had two children – Bobby and Ethel. A series of business difficulties made it impossible for Levitt to deal with Ethel's success – living out a 20th Century cliché, he was called "Mr. Merman" too often. Several years after they divorced, Levitt took his own life, leaving Merman to raise the children on her own.
By that time, Merman had married airline executive Bob Six. Hoping to give her children some semblance of a normal life, Merman announced her retirement and became a fulltime Denver housewife. But this arrangement soon palled, and Merman returned to work. Hollywood cast her as the mother of a theatrical family in There's No Business Like Show Business (1954), a lavish showcase for a trunk load of old Irving Berlin songs. Despite a stellar cast, the film was a box office disappointment.

With big musicals fading from Hollywood production schedules, Merman headed back to Broadway. He much-heralded return vehicle was the less than thrilling Happy Hunting (1956 - 412), a spoof of Grace Kelly's royal Monaco wedding that included the catchy "Mutual Admiration Society." Merman's relationship with co-star Fernando Lamas turned so acrimonious that he tried to embarrass her during performances, upstaging her (ie - standing upstage, forcing Merman to turn her back on the audience) and wiping his mouth after their on-stage kisses -- while still in full view of the audience. Merman and the producers were appalled, and gossip columns fed the scandal. In a rare move, Actor's Equity (the stage actor's union) sanctioned Lamas and his behavior improved. Happy Hunting ran on, and the two stars countered their onstage romance with unconcealed offstage hostility.
Merman divorced Six after concluding that he had married her for publicity purposes. While on the rebound, Merman was wooed by actor Ernest Borgnine, the Oscar-winning star of Marty and the popular TV comedy McHale's Navy. Their 1964 marriage ended within days. Neither Merman nor Borgnine ever explained to the public what drove them apart. She filed for divorce on the grounds of extreme cruelty. In Merman's autobiography, the marriage rated a special chapter – one blank page. This serial monogamist was so embittered by the experience that she never married again.
On With the Show
Although many critics underestimated Merman's acting talents, she won universal praise as Mama Rose, the ruthless stage mother in Gypsy (1959), a musical based on the memoirs of striptease star Gypsy Rose Lee. Along with a searing libretto by Arthur Laurents, there was a brilliant score with music by Jule Styne and lyrics by Stephen Sondheim. Merman's sizzling renditions of "Everything's Coming Up Roses" and "Rose's Turn" became the stuff of theatrical legend.
Stories about Merman's performance in Gypsy vary. Many recall it with awe as one of the great events in musical stage history. Others have complained that her dialogue sometimes took on a mechanical quality -- only her singing was uniformly socko. Merman's backstage behavior has also inspired contrasted tales. Co-star Jack Klugman praised Merman for her kindness and professional support. Others claim that young actress Sandra Church (the original Louise somehow got on Merman's bad side during the run. When producer David Merrick asked Merman if she was still speaking to Church, Merman reputedly said, "Of course I speak to her! Every night when the curtain goes down, I say 'Go #!&! yourself!'"
Merman must have been disappointed when the Tony went to Mary Martin for The Sound of Music. There have been any number of idiotic Tony decisions over the years, but it is inconceivable that anyone playing Maria Von Trapp could possibly outclass Merman's Mamma Rose. But Oscar Hammerstein's death made Sound of Music such a sentimental favorite with Tony voters that Gypsy's powerhouse book and score did not even receive the courtesy of nominations.
Few would have believed that Mama Rose was the last stage role Merman would originate. But the demands of eight performances a week were becoming too much, forcing Merman to so limit her life that it was "like taking the veil." When offered the chance to star in the new musical Hello Dolly!, Merman declined, saying she was too tired to take on another show. She took on several films, including an acclaimed performance as the greedy Mrs. Marcus in director Stanley Kramer's It's a Mad, Mad, Mad, Mad World (1963). She gave another hilarious performance as a French whorehouse madam in director Norman Jewison's comedy The Art of Love (1965).
The bulk of Merman's legendary career was behind her at a time when popular culture was undergoing massive change. Merman had the task of carrying on as something more than a great performer – she had the burden of being a living Broadway legend in a world that was paying less attention to Broadway.