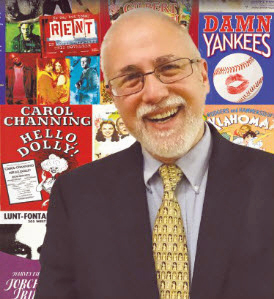 On Monday December 5th, join Musicals101 creator John Kenrick for a multimedia talk on Hamilton: The Man, The Musical, The Phenomenon at The Peninsula Library, 280 Central Avenue, Lawrence NY at 1:00 PM. This talk includes videos, rare photos and tons of behind the scenes stories about this acclaimed Broadway sensation. Admission is FREE. For information or directions, you can call the library at 516-239-3262
.
You can check out a full
schedule of John's upcoming public talks
, and see a selection of video clips of John in action on Musicals101's
Youtube page
. If you are interested in booking John for your group, you may want to look over his extensive list of
talk topics
.



NEW REVIEW: THE PRODUCERS delights at Paper Mill


John Kenrick's book Musical Theatre: A History is available in paperback and e-book format from all major retailers. A new 10th Anniversary Edition is in the works and will be published in 2017.
His Guide to Amateur Theatricals is available in e-book format through all major web retailers.