Musicals101.com presents
George M. Cohan 101
Compiled by John Kenrick
(Copyright 2002; revised 2014)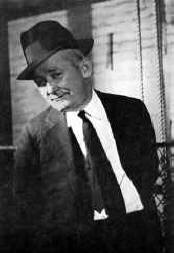 George M. Cohan was America's first show business superstar, known coast to coast as a successful actor, singer, dancer, playwright, composer, librettist, director and producer. Once known as "The Man Who Owned Broadway," most of his work is forgotten today -- aside from a few of his songs and the film bio Yankee Doodle Dandy. If all you know about him comes from that film, you are in for some surprising discoveries here.
I had the opportunity to learn more about this extraordinary man while cataloging the Cohan archive at the Museum of the City of New York in 2002. From variety and vaudeville through the first glory years of Broadway musical comedy, Cohan played a vital role in the development of this art form. Although none of his musical are performed today in their original versions, his patriotic flair and energetic comic style still echo in musical theatre today.
I hope you find these pages an informative and enjoyable introduction to the life and career of this fascinating man. To borrow a phrase Cohan himself scribbled on one of the photos posted here, I remain --
"Yankee-Doodle-fully yours,"
John Kenrick
Webmaster - Musicals101.com