History of The Musical Stage
The 1970s, Part I: Rock Musicals
by John Kenrick
(Copyright 1996; revised 2014)
(The images below are thumbnails – click on them to see larger versions.)
Some sources suggest that the "Golden Age" of the Broadway musical was over, but from an artistic standpoint, the 1970s proved to be one of the most innovative, exciting decades the stage musical had ever known. The decade brought a vigorous three-sided battle for pre-eminence between rock musicals, "concept" shows and conventional post-Oklahoma musicals. Each of these sub-genres had virtues and flaws, and each had hits and misses. And each had its champions, bringing a new generation of composers to the forefront.
Just when it seemed that the three way conflict was resolved, yet another type of musical came from across the Atlantic -- one that would dominate Broadway through the end of the century.
Rock Musicals: "Could We Start Again Please?"
In the wake of Hair, Clive Barnes (then the powerful chief critic for the New York Times) proclaimed that rock music was the sole hope for Broadway musicals. Since rock dominated the popular music scene, and since the musical theatre had long thrived by staying attuned to popular trends, this was a justifiabe suggestion. Intelligent rock musicals with solid production values did well. Several outstanding examples –
The Me Nobody Knows (1970 - 794 performances) was a revue-like collage of songs based on poems by inner city children. Performed by a youthful cast of unknowns, it became a celebration of the human spirit triumphing over squalid circumstances. A rave review in the NY Times sparked audience interest, and word of mouth did the rest. After seven months Off-Broadway, the production moved to the Helen Hayes and ran profitably for twenty more.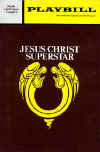 Broadway's first full-fledged rock opera came from two British newcomers, composer Andrew Lloyd Webber and librettist Tim Rice. Jesus Christ Superstar (1971 - 720 performances) began life as a best-selling British studio recording. The intriguing premise was to examine the role popular fame played in Christ's fate. At times fresh and impertinent, and ponderous at others, JCS was a world away from the rock musicals of the late 1960s. With all dialogue set to music, this work qualified as the first rock opera. Broadway audiences didn't much mind the high-powered staging by Hair alumni Tom O'Horgan, but a more effective London production ran for a record-setting 3,358 performances. With this hit, Webber and Rice initiated a new creative era for the British musical theatre. Before the decade was out, this team and their new form would be back with a success that would redefine the rock opera genre.
American critics were far kinder to composer-lyricist Stephen Schwartz's take on the same subject, Godspell (1971 - 2,651 performances), which started off-Broadway on a meager budget and became a phenomenal success. The upbeat score included "Day By Day," "Turn Back, O Man" and "Prepare Ye the Way of the Lord." Unpretentious and charming, it remains a staple in schools and community theatres on both sides of the Atlantic.
Long-Running Rockers

This NY Shakespeare Festival brochure offers a grand full stage view of Two Gentlemen of Verona.
The Tony Awards had blatantly snubbed Hair in 1969, but in the early 1970s the growing presence of rock on Broadway proved impossible to ignore.
Two Gentlemen of Verona (1971 - 627 performances), a multi-racial rock version of the classic comedy had a score by Hair composer Galt MacDermot and a plot by Shakespeare. Playwright John Guare's solid book and lyrics veered between the Bard's poetic tone and pop verse. The production took a playful approach to multi-ethnic casting, with delightful results. Like Hair, it was nurtured by Joseph Papp's NY Shakespeare Festival. After a limited open-air run in Central Park, the show moved to Broadway and received the Best Musical Tony for 1972. Despite its initial popularity, this show is rarely staged today.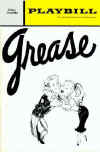 The original Playbill for Grease, which opened on Manhattan's Lower East Side at the Eden Theatre before audience demand led to a record-setting run on Broadway.
Grease (1972 - 3,388 performances) won America's heart with a 1950s rock n' roll pastiche score and a hokey story about white trash high school kids finding friendship and romance ("rama lama lama, ka dingy dee ding dong!") during their senior year. It had enough low comedy, coarse language and general goodwill to entertain millions. After opening to good reviews at the Eden Theatre on Manhattan's Lower East Side, the show soon moved to Broadway, becoming the most commercially successful 1970s rock musical. Thanks to a low operating budget, Grease set a new record as Broadway's longest running musical – a distinction it would hold until A Chorus Line surpassed it in the 1980s. It was the only successful theatrical project by co-creators Jim Jacobs and Warren Casey. As the years went by, the New York production interpolated obscenities to amuse teenage theatre-goers, but these changes were never added to the approved script. The 1978 big screen version became the highest-grossing screen musical up to that time, and a 1994 Broadway revival supervised by Tommy Tune ran for 1,503 performances. An ongoing favorite with community theatres and school groups, Grease remains one of the most popular musicals of all time.
The Wiz (1975 - 1,672 performances), an all-black retelling of The Wizard of Oz, had a score brimming with rock and rhythm & blues. Geoffrey Holder's flamboyant production turned an okay show into a Tony winner for Best Musical. As Dorothy, Stephanie Mills won raves with her rendition of "Home." The Wiz was the last American-born 1970s hit that could be called a rock musical. The over-produced movie version starring Diana Ross was a financial failure, and a 1984 Broadway revival lasted less than two weeks.
The Beat Fades
In time, Broadway producers and theatre-goers turned against rock. This may have been at least partly because of personal musical tastes, but mainly because too many rock musicals were amateurish embarrassments. Few rock composers had a clue as to how to write a coherent musical, or how to give a raw idea professional polish. Composer Galt MacDermot had succeeded with Hair and Two Gentlemen of Verona, but his shortcomings as a craftsman became apparent when he penned two expensive disasters that opened within weeks of each other.
Dude (1972 - 16 performances) was a muddled story of God and Satan battling over a man's soul. The Broadway Theatre was converted into an arena-style performance space, but this expensive gesture could not make up for Dude's amateurish book and score. Despite having most of Hair's creative team on hand, the confusing show closed in two weeks, losing over a million dollars.

Via Galactica (1972 - 8 performances) offered a futuristic story of social outcasts living on an asteroid. It was so incoherent that even a plot synopsis inserted in the program could not clarify what was happening on stage. Via Galactica was one of the first Broadway flops to lose more than a million dollars.

MacDermot would not see another new work reach Broadway for more than a decade, by which time his style was far more traditional. In the meantime, others turned out a crop of rock musicals that met equally dismal fates.
The Lieutenant (1975 - 9 performances) was a rock opera inspired by the 1968 massacre of Vietnamese citizens in My Lai. Some critics raved for this passionate work, but few Americans wanted a musical reminder of one of the saddest atrocities committed during a long, demoralizing war. It would be another fifteen years before a musical set during the Vietnam conflict would achieve commercial success.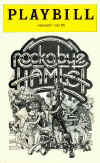 Rockabye Hamlet (1976 - 7 performances) was probably the most embarrassing rock musical of it's time. As the title suggests, it was based on Shakespeare's tragedy about a Danish prince avenging his royal father's death. Director Gower Champion staged the show like a rock concert, and the result was such an incoherent mess that many found it hard to believe Champion was responsible for it. The score included "He Got It in The Ear" and evil King Claudius singing "The Rosencrantz & Guildenstern Boogie." Disgruntled audiences laughed when the despairing Ophelia sang the title song and then strangled herself with a microphone cord. Bad rock and appalling theatre, it closed in one week.
It was not until the late 1970s that rock and other pop idioms would again reach Broadway in an effective theatrical format.