Demolished Broadway Theatres - Hi to L
Compiled by John Kenrick
(The images below are thumbnails – click on them to see larger versions.)

A vintage post card gives us this rare color view of The Hippodrome as it appeared in its vaudeville years. Home to stage spectacles, it was the largest theatre ever used for legitimate Broadway productions.
Sixth Avenue between 43rd and 44th Street
Built: 1905
Demolished: 1939
Seats: 4,687
Architect: J.H. Morgan
Owners/Managers: John W. Gates, Frederick Thompson & Elmer S. Dundy (1905-1906), Gates and the Shuberts (1906-1915), Charles Dillingham (1915-1923), Keith & Albee (1923-1925), RKO (1925-1929)
History: With a stage that was 200 feet wide and 110 feet deep, this amphitheatre was home to spectacles, vaudeville and Religious Science lectures. Billy Rose renovated the house for Jumbo, spending so much that it proved impossible for the popular production to turn a profit. After the building was demolished, the lot remained vacant for over a decade. It is now the site of a parking garage and office building.
Noteworthy Musicals: Jumbo (1935)
86-94 14th Street
Built: 1864
Demolished: 1872 (fire)
History: Built on the site of Nixon's Alhambra Theatre, this was supposedly one of the first steam heated buildings in New York. The home of Lent's New York Circus, it was renamed the Hippotheatron in 1869, and housed several early musicals until Barnum took over in 1872. The building burned down a month later, killing a full menagerie of animals.
Noteworthy musicals: Fairy Prince O'Donoughue (1865)
720 Broadway, just below 8th Street
Later Named: Donaldson's Opera House (1855), Academy of Minstrels (1856), Kelly & Leon's (1865), Waverly Theatre (1869), Lina Edwin's (1870)
Built: 1850 (approx)
History: Originally a religious assembly hall, this space converted to theatrical use in 1855. From 1865 to 1869, it was leased by Edwin Kelly and female impersonator Francis Leon, who presented a series of important musicals. Actress manager Lina Edwin enjoyed a brief reign here in the early 1870s.
Jack Norworth
125 West 48th Street
Built: 1918
Demolished: 1951
Seats: 500 (approx.)
History: This intimate house was initially named for its first owner, songwriter Jack Norworth, who lost the theatre after four months. Renamed the Belmont, it was used as a movie theatre from 1936 until its demolition.
Noteworthy Musicals: Odds and Ends (Moved - 1918), Americana (1926)
Broadway at 44th Street
Also named: Olympia Roof Garden, New York Roof
Built: 1895
Demolished: 1935
Seats: N/A
History: The roof garden of the Olympia Theatre went by various names, but it is was called the Jardin de Paris when Florenz Ziegfeld produced the first five editions of the Follies here (1907-1911).
John Golden (Old)
202 West 58th Street
Later named: Cort's 58th Street, Filmarte, Fine Arts, Concert, Elysee
Built: 1926
Demolished: 1985
Owners/Managers: John Golden (1926-1935), John Cort (1935-1936)
History: This theatre was built by and named for producer John Golden, who lost it after a series of flops during the Great Depression. Renamed briefly for producer John Cort, this house was used under various names as a movie venue from 1936 to 1946. In 1942, it was called the Concert when it housed a short lived revue. ABC used this space as a radio and TV studio from 1946 until it was demolished thirty years later.
Noteworthy Musicals: Of V We Sing (1942)
John Street Theatre
15-21 John Street, East of Broadway
Built: 1767
Demolished: 1798
Capacity: About 750
Owner: Built by David Douglass
History: New York's fifth formal theatre. Due in part to a lack of serious competition, this unattractive wooden structure served as the city's principal performance venue for three decades. This house was renamed the Theatre Royal during the British occupation (1776-1783), then reverted to its original moniker. In its final year, it housed the very brief run of the early American musical The Archers. In 1797, the structure briefly became part of a hay and feed store.
Noteworthy Musicals: The Archers (1796)
926 Seventh Avenue (at 59th Street)
Later named: Central Park, Venice, Yiddish Art, Molly Picon, New Century
Built: 1921
Demolished: 1962
Seats: 2,770
Architect: Herbert J. Krapp
Owners/Managers: The Shuberts
History: The Shubert Brothers named this theatre after their greatest musical comedy star, Al Jolson. He appeared in just one show, Bombo -- the first of many hit musicals to play here. The house changed names often over the years. It was renamed the Central Park in 1931, the Venice in 1934 -- and under that name housed the historic first performance of The Cradle Will Rock in 1937. The house was named for actress Molly Picon for a few months in 1942. The Shuberts called it the New Century as of 1944, and booked a series of musical hits. NBC leased it as a TV studio from 1953 to 1958. After several years of disuse, it was demolished and replaced by an apartment building.
Noteworthy Musicals: Bombo (1921), The Student Prince (1924), The Cradle Will Rock (1937), Follow the Girls (1944), Up In Central Park (1945), High Button Shoes (1947), Kiss Me Kate (1948), Out of This World (1950), Carnival in Flanders (1953)
- see Hope Chapel
251 West 45th Street
Also named: Avon
Built: 1921
Demolished: 1954
Architect: Eugene DeRosa
Owners: Marc Klaw & Abe Erlanger (1921-early 1930s), CBS (1937-1953)
History: Originally named for theatre owner Marc Klaw, this house was given the Shakespearean name Avon in 1928. Beginning in 1934, CBS used it as a radio studio, purchasing the building outright in 1937. Seventeen years later, it was torn down to make way for a parking garage.
- see Abbey's
West 23rd Street & 6th Avenue
Also named: Bryant's Opera House (1870), Darling's Opera House (1875), 23rd Street (1875), Theatre Francaise (1877), St. James (1878), The Trocadero (1896)
Built: 1870
Demolished: 1924
History: Koster & Bial took over this venue in 1879, turning it into America's premiere variety theatre. Many giants of musical theatre performed here, including musician Victor Herbert and George M. Cohan's dancing sister Josie. The owners moved to an uptown location in 1896, and this house served a vaudeville venue into the 1910s. While the theatre is long gone, it spawned an adjacent complex of nightclubs and restaurants that stretched over a whole block -- the only remaining evidence is a pair of stone tablets on the building that still stands at Sixth Avenue and 24th Street, proclaiming it "The Corner."
200 West 48th Street (at Broadway)
Also named: Palais Royal, Connie's Inn, Cotton Club, 22 Steps, Princess (II)
Built: 1933
Demolished: 1990
Seats: 499
History: After many years housing some of New York's most legendary nightclubs, this two-story structure was converted to theatrical use in the late 1970s. It dared to rename itself after the legendary Princess Theatre, but had none of the intimate elegance of that house. The building was demolished to make way for a high rise hotel.
Musicals: My Old Friends (1979), The Madwoman of Central Park (1979), Pump Boys and Dinettes (1982), Harlem Nocturne (1984)
Laura Keene's Varieties
622 Broadway (above Houston Street)
see The Olympic (2nd)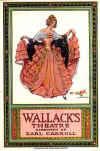 When the house originally called Lew M. Fields took on the name Wallack's in the 1920s, it used this program cover.
Lew M. Fields
254 West 42nd Street
Later named: Hackett, Harris, Frazee, Wallack's, ANCO Cinema
Built: 1906
Demolished: 1997
Seats: 880
Architect: Albert Edward Westover
History: Built by Oscar Hammerstein I and Lew Fields, it was purchased and renamed The Harris by producer Henry Harris in 1910. It was renamed for producer Henry Frazee in 1919, then renamed Wallack's in 1924. A movie house as of 1930, it was renovated in 1940 and renamed the ANCO Cinema. Gutted for use as retail space in 1988, the denuded building was demolished nine years later.
Noteworthy Musicals: It Happened in Nordland (1904), Laff That Off (1925)
312-316 Fourth Avenue (North of 24th Street)
Built: 1885
Demolished: 1902
History: The first NY theatre to be lit entirely by electricity -- the installation was personally supervised by inventor Thomas Edison. Acclaimed as the most handsome theatre of its day, the Lyceum was managed by Daniel Frohman for most of its seventeen year existence.