Michael Bennett's A Chorus Line - Part I
by William J. McKay
(Copyright 1998)
(Note: The photos for A Chorus Line were taken by Martha Swope. All the photos below are thumbnails – click on them to see larger versions.)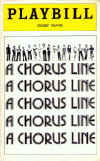 On July 25, 1975, A Chorus Line opened on Broadway at the Shubert Theatre. It closed there on April 28, 1990 after 6,137 performances. For some time, it held the record as the longest-running musical in history.
While all shows are a result of collaboration, A Chorus Line particularly owed its success to its true creator, Michael Bennett. Never had a director-choreographer been so dominant in a show's formation. While Bennett knew that it had to have commercial audience appeal, he wanted a show that spotlighted "gypsies" (a theatrical term for chorus dancers). He wanted to honor a dancer's life.
Michael Bennett
Michael Bennett is considered one of Broadway's all-time greatest choreographers. He was born in Buffalo on April 8, 1943, just eight days after the opening of Oklahoma! (often sited as the first musical to properly incorporate theatre dance). Bennett's "Broadway gypsy" career began in the chorus of Subways Are For Sleeping (1961), went on to Here's Love (1963) and ended with Bajour (1964). For a dancer, this was not much of a career. However, it was with choreography and direction Bennett found his place on stage.
Bennett became a choreographer in 1966 with the short-lived A Joyful Noise, for which he earned his first Tony nomination. Next came Henry Sweet Henry (1967) and another Tony nomination. Promises, Promises (1968) was a hit, and gave Michael yet another nomination. The next year was Coco (1969), another hit and another Tony nomination. Then came the smash Company (1970), and for the fifth year in a row Bennett had another nomination and another loss.
Finally, Bennett hit it big with Follies (1971). He choreographed and co-directed this musical about aging performers. He won two Tony awards for the work, and some feel that the dance for the number "Who's That Woman?" was arguably the best number in Broadway history. That same year he also directed the straight play Twigs. Two years later, another Tony for choreography was awarded to Bennett for Seesaw.
And Then Came A Chorus Line
It was the stitching together of all its elements in that purest of theatrical areas, a deep and empty stage, by its director-choreographer that made A Chorus Line so thrilling to its audience.
(Frank Rich, 1994)

(The) best blending of all the elements of musical theatre yet achieved by a theatre artist.
(Ken Mandelbaum, 1989)
Throughout the previously mentioned musicals, Bennett created a style of choreography that remained unique to each particular show. At the top of his form with A Chorus Line, he incorporated what he called "cinematic staging." There was constant "jump-cutting" as the audience's attention was shifted from one figure to another.
Bennett brought things into sudden focus as in a film through stage dissolves, close-ups, montages and wipes. Equally effective, creative and dramatic was Bennett's use of mirrors in the show. It was musical staging that went beyond anything other musicals had ever presented.
A Chorus Line began as a workshop "share" session. A group of dancers met after rehearsals for other shows to talk about their personal and professional lives. The sessions were tape recorded, written down, and a musical libretto was pieced together. Playwright/novelist James Kirkwood (P.S Your Cat Is Dead) and former dancer Nicholas Dante assembled the book. Academy-award winner Marvin Hamlisch composed the music and the relatively unknown Edward Kleban wrote the lyrics.
Their combined work, guided closely by Bennett, resulted in a staging scheme that filled the songs and book with overlapping layers. Neil Simon was called in to do some uncredited book doctoring, adding some of the great one-liners.
Costumes were created by Theoni V. Aldredge, lighting (perhaps the best ever) by Tharon Musser, settings by Robin Wagner, sound by Abe Jacob and orchestrations by Bill Byers, Hershey Kay and Jonathan Tunick.
The formation of the show took place during a lengthy series of workshops that allowed Bennett's many creative re-thinkings to develop. His methods did not always sit well with his cast, but Bennett's determination held firm. Joseph Papp, through his New York Shakespeare Festival, became the show's producer. He provided the essential funding, rehearsal/workshop space, and unusually generous time for the show to take shape.
To read about the plot of A Chorus Line, please . . .