Cohan 101
Cohan Bio: Part III
by John Kenrick
(Copyright 2002 & 2004)
(All the photos on this page are thumbnail images – click on them to see larger versions.)
Cohan could not resist the lure of performing. In 1933, he overlooked his instinctive distrust of Hollywood just long enough to star in his only musical film. The Phantom President (1933) was the story of a small time song and dance man who agrees to campaign in place of a lackluster presidential candidate he bears a twin-like resemblance to. Cohan played both roles, using spilt screen technology in several scenes. Despite a score by Richard Rodgers and Lorenz Hart and the best efforts of co-stars Claudette Colbert and Jimmy Durante, The Phantom President was a weak vehicle, but it offers a precious glimpse of him in action. Although his nasal singing sounds harsh, his dancing was still slick, and we can experience something of the personality and physical grace that made him such an audience favorite.

Cohan dispenses fatherly advice to Elisha Cook Jr. in the original production of Ah, Wilderness.
Thoroughly disgusted with movie making, Cohan returned to New York where the illustrious Theater Guild persuaded him to create the role of Nat Miller, the good natured father in Eugene O'Neill's nostalgic comedy Ah Wilderness (1933 - 289 performances). Many were surprised to see the old song and dance legend in a play by America's most acclaimed modern dramatist, but Cohan gave such a moving performance that critics hailed him as never before. He was suddenly proclaimed "America's first actor." It may have irked Cohan to get the best reviews of his life in another man's play, but this never showed up onstage or backstage, where his professional courtesy proved unfailing.
Cohan's behavior was less sterling when he played President Franklin Roosevelt in the musical I'd Rather Be Right (1937 - 290 performances). Former partner Sam Harris was producing, with a script by playwright Moss Hart and songs by Rodgers and Hart -- who accepted the project despite their earlier experience with Cohan in Hollywood. This time around, Cohan treated Rodgers and Hart with open contempt, even though their score included "Have You Met Miss Jones?" and the Cohan showstopper "Off the Record." He was equally annoyed with Moss Hart's book, which had more contemporary satirical bite than any Cohan script ever aspired to.
Instead of impersonating the wheelchair-bound FDR, Cohan gave an all-out song and dance performance. No one had ever depicted a living president in a book musical before, so I'd Rather Be Right opened amid extraordinary press hoopla. Critics raved, Roosevelt (a longtime fan of the Four Cohans) expressed his approval, and the show became the hottest ticket on Broadway. After a profitable New York run, Cohan went out on a grueling national tour -- no small feat for a man in his sixties.
Cohan as FDR in I'd Rather Be Right.
During the run of I'd Rather Be Right, Cohan occasionally took liberties with the script and lyrics. Otherwise, his innate professionalism took precedence over any personal grudges. He rehearsed tirelessly and never missed a performance, giving his all for nearly two years in a musical that he supposedly hated. He also took the time to help the students at Catholic University in Washington D.C. to stage a musical version of his life. The libretto for Yankee Doodle Boy was written by Walter Kerr, who went on to an illustrious career as a playwright and theatre critic.
Cohan took one more stab at doing his kind of show by writing, producing and starring in The Return of the Vagabond (1940 - 7 performances), a sequel to his old hit The Tavern. But audiences were not interested, and after an embarassingly brief run Cohan announced yet another retirement. It was widely expected that this one would prove as brief as the others, but Cohan had been diagnosed with terminal stomach cancer. He kept the disease a secret, but never performed again.
Cohan visited the White House in 1940, where President Roosevelt presented him with a Congressional medal honoring him as the creator of "Over There." To this day, he remains the only American composer to receive such an award. But Cohan was hardly anxious to receive it. He had kept Roosevelt waiting for more than a year -- some suggest that FDR's progressive social policies had alienated the increasingly conservative Cohan.

George M. Cohan and Sam Harris clown for the cameras in the 1930s. Although no longer partners, they remained close friends and (as their wives were sisters) in-laws.
Cohan was understandably shattered when stomach cancer killed Sam Harris in 1941. By the time Warner Brothers approached Cohan with plans for a film based on his life, he was living in semi-seclusion, doing everything possible to keep his failing health a private matter. Despite his condition, he took an active role in planning the film, going so far as to submit a full-length screenplay which the studio ignored. But Cohan's was pleased when Warner Brothers hired Walter Kerr, whose college libretto formed the official basis of the screenplay.
Cohan approved the choice of former vaudevillian James Cagney as his cinematic alter ego, and was delighted when longtime friend (and vaudeville veteran) Walter Huston was cast as Jerry Cohan. While Yankee Doodle Dandy (1942) goes to great lengths to ignore certain aspects of Cohan's life, it remains a magnificent showcase for several of his finest songs -- and a wildly entertaining film overall. Cagney's brilliant performance is his own creation, not an imitation. However, he did have one of Cohan's old dance assistants on hand to make sure that his dancing and stage mannerisms invoked something of George's unique style.
Cohan saw Yankee Doodle Dandy become a phenomenal success. Against doctor's orders, he snuck out of his Fifth Avenue apartment in a wheelchair to catch screenings of the film at the Hollywood Theatre (later the Mark Hellinger, now a church). After hearing the wartime audience cheer for his old songs, George M. Cohan had his nurse take him home.
Cohan defied his painful disease to the last, insisting he would somehow recover and make another comeback on Broadway. He was even working on a new musical for himself entitled The Musical Comedy Man. Despite the pain, and his wife's ongoing health problems, George's spirits remained high. When Ward Morehouse asked how Cohan felt looking back on his life in the theater, the old trouper grinned and characteristically said, "No complaints, kid. No complaints." He died quietly on the morning of November 5, 1942.
In the early 1960s, a statue of George M. Cohan was erected in the center of Times Square, at the intersection of Broadway and 47th Street. Crowds waiting for the TKTS line now snake around the base of that statue every day, and most pay little if any attention to it. But the visage of the man who once "owned Broadway" still gazes down the street he dedicated his life to. In a neighborhood caught in an ongoing vortex of upheaval, Cohan's monument provides a much-needed visual link with the past.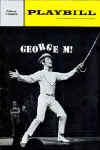 Joel Grey played the title role in the rollicking Cohan bio musical George M!(1968 - 433 performances).
Later that same decade, Cohan's daughter Mary teamed up with librettist Michael Stewart to create George M! (1968 -433 performances). Part revue, part book musical, it used an abbreviated retelling of Cohan's life story to showcase dozens of his songs. An immediate hit, it revived interest in Cohan's work, and gave the dynamic Joel Grey one of the best starring roles of his career. Since then other shows have been built around Cohan's catalog of songs -- so far, none of these often delightful projects has reached Broadway.
Cohan's widow Agnes lived on for several decades in a nursing home, the nature of her illness never publicly discussed. It was said that she took great pleasure in TV reruns of Yankee Doodle Dandy, singing along with George's songs. Forgotten by the public, she died in 1972 at age 89. Over time, all of George's children died, and his remaining descendants pretty much avoid publicity.
It is anyone's guess how Cohan would react to the current Broadway landscape. Odds are that the high-rise hotels, blinding billboards and high-tech musicals would leave him shaking his head in bemusement. But upon learning that his songs are still remembered and his name still far from forgotten, I think it's a safe bet that he'd give that crooked grin of his and say –
"Ladies and gentlemen, my mother thanks you, my father thanks you, my sister thanks you, and, I assure you, I thank you!"