Noel Coward 101
Coward's Musicals
Profiled by John Kenrick
Unless otherwise noted, these are London productions for which Coward was librettist, composer & lyricist. Performance totals are included when available.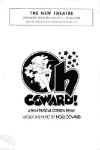 An original cast program for Oh Coward! (1972), Roderick Cook's witty three person revue that looked back over the full length of "The Master's" career.
1916
The Light Blues (actor only - played Basil Pyecroft) - The only time Coward appeared in a musical he didn't write or contribute to. British star Cicely Courtneidge starred as a madcap Edwardian actress, with a book & score co-authored by her husband, Jack Hulbert. Noel played one of Cicely's dashing suitors, wearing a false mustache to camouflage his extreme youth. The show closed after just three weeks in London.
1923
London Calling! (also actor) - Produced by Andre Charlot, this revue included several sketches and songs by Coward, including the Gertrude Lawrence showstopper "Parisian Pierrot." Audiences were not impressed by Noel performing his own "Sentiment," despite his taking lessons from young Fred Astaire. (316 performances)
1924
Andre Charlot's Revue of 1924 (NY) - A compilation of material from several Charlot revues, it featured Lawrence singing "Parisian Pierrot." The cast also included Bea Lillie. (298 performances)
Charlot's Revue - This London hit featured several minor Coward songs. (518 performances)
1925
On With the Dance - Coward was still appearing in The Vortex when he wrote this hit Cochran revue. It featured Alice Delysia singing "Poor Little Rich Girl." (229 performances)
Charlot's Revue of 1926 - (NY) Another successful compilation of material from Charlot's London productions, starring Bea Lillie, Gertrude Lawrence and Jack Buchanan. (138 performances)

A publicity flyer for the Broadway production of This Year of Grace
1928
This Year of Grace - This Cochran revue starred Sonnie Hale, Laurie Devine and Jessie Matthews. The score included "Dance Little Lady," "Teach Me to Dance Like Grandma" and "A Room With a View." (316 performances)
This Year of Grace (NY - also director & actor) - When Cochran brought this revue to Broadway, Coward co-starred with Bea Lillie to packed houses. He added "World Weary" to the score for Lillie, who sang it as an office boy perched on a stool. (157 performances)
1929
Bitter Sweet (also director) - Coward's shameless attempt to revive old style operetta offered the tale of an heiress who runs off with her music teacher, only to see him die at the hands of a jealous aristocrat. American soprano Peggy Wood and baritone George Metaxa starred, and the score included "I'll See You Again" (also called The Bitter Sweet Waltz), "If Love Were All," and the daring gay trio "Green Carnation." The lavish Cochran production was a long-running success. (697 performances)
Bitter Sweet (NY - also director) - British star Evelyn Laye starred and the legendary Ziegfeld produced, but this production had the misfortune to open in the wake of a crippling stock market crash. (159 performances)
1931
Charles B. Cochran's 1931 Revue - Busy elsewhere, Coward contributed just four numbers for this failure, including "Half-Caste Woman" and "Any Little Fish." (27 performances)
1932
Words and Music (also director) - After the international success of Private Lives and Cavalcade, Coward rejoined Cochran for this hit revue. Highlights included Romney Brent singing Mad Dogs and Englishmen," "The Party's Over Now" and the ensemble number "Mad About the Boy." (164 performances)
1934
Conversation Piece (London - also director & actor - played Paul duc de Chaucigny-Varennes) - Coward again turned his hand to operetta with this tale of upper class romance in Regency England. Coward co-starred with French soprano Yvonne Printemps, who introduced "I'll Follow My Secret Heart." Coward was eventually replaced by Printemps' husband, Pierre Fresnay. (177 performances)
Conversation Piece (NY - also director) Fresh from London, this one did not win many fans on Broadway. (55 performances)
1936
Tonight at 8:30 (also director & actor - played George Pepper, Simon Gayforth & Jasper Featherways) - Coward was easily bored by long runs, so he wrote this series of nine one act plays to be performed on three alternating nights. In the four mini-musicals, he and co-star Gertrude Lawrence sang "Has Anybody Seen Our Ship?," "We Were Dancing" and "Men About Town." (157 performances)
Tonight at 8:30 (NY - also director & actor - played same roles as London) A hit with critics and audiences, the run was limited by Coward's standard refusal to play more than three months. (118 performances)
1938
Operette (also director) - Fritzi Massary played an aging Viennese star who warns young Peggy Wood not to marry a nobleman. Despite the witty "The Stately Homes of England" and the endearing "Where Are the Songs We Sung?," this attempt mittel-European nostalgia only managed a modest run. (132 performances)
1939
Set to Music (NY - also director) - Coward's former lover John Wilson presented this Americanized rehash of Words and Music. Bea Lillie starred and introduced "I've Been to a Marvelous Party." (129 performances)
1945
Sigh No More (also director) - Coward's first postwar effort starred Cyril Ritchard, Madge Elliott and Joyce Grenfell. Graham Payne, Coward's longtime companion, sang the haunting "Matelot." (213 performances)
1946
Pacific 1860 (also director) - This lavish South Seas romance starring Mary Martin and Graham Payne tried unsuccessfully to recapture a pre-war sense of glamour. Songs included "This is a Changing World," "Uncle Harry" and "Alice is At It Again." (129 performances)
1950
Ace of Clubs (also director) - Set in a Soho nightclub, this musical comedy packed with sailors, gangsters and chorus girls was unlike any other Coward musical. Score included "Sail Away" and "I Like America." (211 performances)
1954
After the Ball - Coward's semi-operatic musical adaptation of Oscar Wilde's Lady Windemere's Fan suffered from the miscasting of Mary Ellis in the starring role. (188 performances)
1955
Together With Music (CBS television - also actor) - For this critically acclaimed two-person revue co-starring Mary Martin, Coward penned "Ninety Minutes is a Long, Long Time" and a breezy title tune.
1961
Sail Away (NY - also director) This musical comedy of romance on a luxury liner starred Elaine Stritch as the ship's indefatigable cruise director. The title tune had originally appeared in Ace of Clubs, and the new numbers included "Come to Me," "The Customer's Always Right" and "Why Do the Wrong People Travel?" (167 performances)
1962
Sail Away (London - also director)
1963
The Girl Who Came to Supper (NY - also director) Based on Rattigan's The Sleeping Prince, this tale of an American showgirl wooed by a Balkan archduke during the 1911 coronation of George V was a bit too much like My Fair Lady for the critics. Jose Ferrer and Florence Henderson starred, but Tessie O'Shea stole the show with a medley of music hall-style Coward songs called "London." Henderson dazzled with a wild one person version of a fictional Edwardian musical, "The Cocoanut Girl." (112)
1964
High Spirits (NY - director only) - Coward agreed to direct this musical adaptation of his Blithe Spirit, with a fine score by Hugh Martin & Timothy Gary. Bea Lillie starred as Madame Arcarti, with Tammy Grimes as Elvira and Edward Woodward as the haunted husband. When Coward recorded a solo album of the score, he added new lines to "Home Sweet Heaven" - otherwise, he tactfully left the score in the hands of its American composers.
1972
(Although Coward took no direct part in preparing these revues, he personally approved of both attempts to synthesize his broad catalog of musicals and plays.)
Oh, Coward! (NY - composer/author) - Used existing songs & scenes (294 performances)
Cowardy Custard (London - composer/author) - Using existing songs and scenes