A History of The Musical
After Gilbert & Sullivan
by John Kenrick
(Copyright 1996-2003)
(The images below are thumbnails – click on them to see larger versions.)
The Gaiety Musicals

The Quaker Girl came to Broadway in 1911 with Ina Claire (far left) in the title role. A poor British girl wins the love of a young American diplomat, but only after she runs away to be a model in Paris.
In Britain, everything on the musical stage during the late 1800s was measured against the works of Gilbert and Sullivan. Their most successful competitor was producer George Edwardes. His first hit was major was Dorothy (1886 - 931), a comic opera by B.C. Stephenson ad composer Alfred Cellier (Sullivan's former conductor). Initially a modest success at the Gaiety Theatre, the show was purchased by Edwardes accountant, who moved the show, recast it effectively, and kept it a sold-out hit for two additional years. With a sweet tale of a rake who falls in love with his disguised fianc'e, and the hit ballad "Queen of My Heart," Dorothy broke all London stage records, running far longer than any G&S production. After the modestly successful follow-up Doris (1889 - 202), Cellier's promising career was cut short by his premature death.
Edwardes stumbled upon a new formula with The Gaiety Girl (1893 - 413), perhaps the only book musical named after a theatre (and ironically, it ran at another house). It was the first in a series of musicals that would pack the Gaiety for the next two decades. Although the earliest of these shows have the same sound one expects from Gilbert & Sullivan's operettas, Edwardes called them "musical comedies" – leading some scholars to incorrectly credit him with inventing a form that Harrigan & Hart had established on Broadway a decade earlier. Although Edwardes was not the true inventor of musical comedy, he was the first to elevate these works to international popularity. When The Gaiety Girl reached Broadway in 1894, the imported British chorus caused a sensation.
The Gaiety musicals had two basic plots – either a poor girl loves an aristocrat and wins him against all odds, or a girl tries to escape an unwanted marriage and leads other characters on a chase through some colorful locale. Decades later, a nostalgic Noel Coward described these shows as follows –
In most of these entertainments there was nearly always a bitter misunderstanding between the hero and the heroine at the end of the first act. (if it was in two acts) or the second act (if it was in three acts). Either he would insult her publicly on discovering that she was a princess in her own right rather than the simple commoner he had imagined her to be, or she would wrench his engagement ring from her finger, fling it at his feet and faint dead away on hearing that he was not the humble tutor she had loved for himself alone, but a multi-millionaire. The ultimate reconciliation was usually achieved a few seconds before the final curtain, after the leading comedian had sung a topical song and there was nothing left to do but forgive and forget . . . I still long to hear the leading lady cry with a breaking heart, "Play louder – play louder. I want to dance and forget!"
- Coward's forward to Raymond Mander and Joe Mitchenson's Musical Comedy (New York: Taplinger Publishing, 1969), pp. 7-8.
All the scores bore a certain resemblance, as did the titles – The Shop Girl, The Geisha, The Quaker Girl, My Girl, The Circus Girl, The Utah Girl, A Runaway Girl . . . all variations on the same basic theme. And that is exactly the way the critics and public wanted it. As late as 1920, a West End revival of The Shop Girl racked up 327 performances.
The London hits from this period that traveled to Broadway could not equal the influence Gilbert and Sullivan had on the American theatre. Theatre historian Sheridan Morley points out that Britain's musical theatergoers "settled into a tasteful kind of calm from which they had to be regularly jolted by occasional glimpses of how these things were done on the other side of the Atlantic." (Spread a Little Happiness, Thames & Hudson, London, 1987, p. 29).
G&S in the USA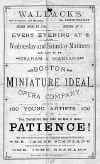 Professional all-juvenile casts of G&S were extremely popular. Here is a program for one such company that appeared on Broadway performing Patience in the 1880s.
Appearing at about the same time as the musical farces of Harrigan and Hart, the works of Gilbert and Sullivan appealed to a much wider audience. After the first unauthorized version of Gilbert and Sullivan's HMS Pinafore premiered in the United States in 1878, the craze known as "Pinafore-Mania" quickly swept the nation.
Pinafore's songs captivated the nation, and the line "What never? Well, hardly ever," became part of everyday conversation. When one newspaper editor angrily commanded his reporters to never use the phrase again, they responded, "What never?" Defeated, he said, "Well, hardly ever!" Unauthorized companies toured the show all over the country, with several troupes playing simultaneously in New York.
The works of G&S remained popular in America through the 20th Century, including a record setting centennial Broadway production of Pirates of Penzance (1981 - 787). The effect of W.S. Gilbert on American lyricists reaches into our own time. Johnny Mercer said, "We all come from Gilbert." Larry Hart called Gilbert "the master," Alan Jay Lerner wrote that it was Gilbert who "raised lyric writing from a serviceable craft to a legitimate popular art form," and Stephen Sondheim included an homage to Gilbert in his Pacific Overtures (1976) showstopper "Please Hello."
But that was all in the future. In the 1880s, Pinafore and the G&S hits that followed made most of America's musical stage entertainment look third rate. Thanks to the industrial revolution and the growth of American cities (the same cultural forces that brought about the growth of vaudeville) theatergoers were becoming more numerous and more sophisticated. Theatrical standards in the US began to change, and an ambitious new breed of native-born musicals quickly developed.
The Home Team: "Oh Promise Me"

Broadway's Robin Hood (1891) - and you thought your high school had bad sets?
Several American repertory companies based on the D'Oyly Carte model thrived during the1880s. The Boston Ideal Opera Company, later known as The Bostonians, toured the country for over a quarter of a century giving top-quality professional performances. Most troupes were centered around a particular star, but The Bostonians made their mark as an ensemble. Their repertory included Gilbert & Sullivan as well as original American musicals. Some of the most memorable American "comic operas" –
"March King" John Philip Sousa wrote several, his most successful being El Capitan (1896), now remembered primarily for its march.
Composer Reginald DeKoven and librettist Harry B. Smith's The Begum (1887) featured characters with names like "Myhnt-Jhuleep" and "Howja-Dhu" in a G&S-style topsy-turvy plot.

DeWolf Hopper and Della Fox as Siamese royalty in Wang (1891) -- a far cry from what Broadway would see six decades later in The King and I.
Wang (1891 - 151) starred matinee idol DeWolf Hopper as the regent of Siam, who tries to end his country's bankruptcy by marrying a rich foreigner. Because popular comedienne Della Fox appeared in tights and portrayed a male character, the producers billed the show as an "operatic burletta." A modest success in its Broadway run, Wang enjoyed extended popularity on tour.
DeKoven & Smith reached their peak with Robin Hood (1891), a semi-comic opera based on the popular British legend of a nobleman who steals from the rich to give to the poor. It featured "Oh Promise Me," a sentimental ballad that became a favorite at American weddings. (Click here to see a script sample from Robin Hood.) Although DeKoven was prolific, his melodies faded from public favor soon after he completed his longest-running hit, The Highwayman (1897 - 123).
Harry B. Smith was one of the unsung giants in the development of the American musical. In a career spanning from 1887 to 1932, he wrote the librettos for 123 Broadway musicals. (By comparison, the great Oscar Hammerstein II wrote less than 50 shows.) Smith's productions included the earliest American comic operas, 13 musicals with Victor Herbert, and material for the earliest editions of Ziegfeld's Follies. Forgotten today, Smith did much to set a professional standard in this young art form.
Now that the American musical had learned to have a good laugh and sing a catchy tune, it was ready for what the 1900s would bring. "It was the music of something beginning, an era exploding, a century spinning . . . "
or