The Merry Widow 101
History of a Hit: Part II
by John Kenrick
Copyright 2004
(The images below are thumbnails – click on them to see larger versions.)
Waltzing Around the World
During 1906, as Die Lustige Witwe won ovations in most of Austria's provincial theatres, it also began to travel across central Europe --
Hamburg - Neues Operetten-Theater, 3/3/1906
Berlin - Berliner Theater, 5/1/1906
Budapest - (A vig Ozvegy) Magyar Szinhaz, 11/27/1906
German speaking countries used the original text, and the Hungarian translation (A vig ozvegy) kept the original plot and song order. But despite its popularity, Lehar's Lustige Witwe was doomed to suffer revisions as it swept the world. English and French translators added new songs, changed character names, and even tweaked some plot points. Translations were popping up everywhere. On a Saturday in 1907, Buenos Aires had no less than five productions, each in a different language, giving two performances a piece.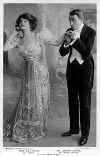 Lily Elsie (Sonia) and Joseph Coyne (Danilo) in the original London production of The Merry Widow.
George Edwardes was Britain's most successful stage producer. Best remembered primarily as the creator of British musical comedy, he had no aversion to importing a continental hit, particularly one as acclaimed as Lehar's Die Lustige Witwe. Edwardes commissioned lyricist Adrian Ross and librettist Edward Morton to create the first English version of The Merry Widow (1907). When Morton's dialogue proved disappointing, the prolific Basil Hood was brought in to re-write the entire script -- but he was not credited until years later, supposedly out of respect for Morton's feelings. The West End production opened at Daly's Theatre on June 8, 1907.
This was a fresh adaptation of the text, not an exact translation. The resulting dialogue had the easy flow of conversational English, rather than the stilted sound of strictly translated German. There were also several diplomatically motivated name changes. The original German libretto had angered officials in the Balkan kingdom of Montegnegro, where the royal family's surname was Njegus, and the real crown prince was named Danilo! So the English version turned Pontevedro into Marsovia, promoted Count Danilo to the title of Prince, and rechristened Njegus as Nish. The final scene was moved into the actual Maxim's, to further capitalize on international interest in that famous Parisian nightspot.
Diplomacy does not explain all the changes. Hanna Glawari became Sonia Sadoya, ambassador Zeta became Popoff, Valencienne became Natalie, and Camille's last name was changed to Jolidon. These new names were just as difficult to sing as the originals, so we can only attribute the changes to the whims of the English authors. A great deal of irrelevant chatter and stage business was added to accommodate popular comedian George Graves, who was such a sensation as Baron Popoff that he played the role to ongoing acclaim for decades. Most of his custom-designed shtick was deleted from future productions.
In an unusual move, British producer George Edwardes brought Lehar to London to compose several additional songs -- "Butterflies" (rarely heard today) for the lead Grisette, and "Quite Parisien" (still often used) as a third act solo for Nish. Soprano Lily Elsie played Sonia, and comedian Joseph Coyne was Danilo. Although this was the most memorable and acclaimed success of Coyne's career, he loathed the role. The Merry Widow opened at Daly's Theatre on June 8, 1907, where it lasted for 778 performances. The same translation played in Australia, opening at Her Majesty's Theatre in Melbourne on May 16, 1908.

Ethel Jackson (Sonia) and Donald Brian (Danilo) headed The Merry Widow's original Broadway cast.
Henry W. Savage was not the most successful producer on Broadway, but he somehow secured the American rights to The Merry Widow. His production used the British translation, minus most of the clowning added for London's Popoff. Adrian Ross was still credited for the lyrics, but the book adaptation went uncredited. The American premiere took place at Manhattan's sumptuous New Amsterdam Theatre on Oct. 21, 1907. Critics and audiences were delighted with every aspect of the lavish production, particularly the cast.
Ethel Jackson played Sonia, and handsome baritone Donald Brian was America's first Danilo. This duo's on-stage chemistry became legendary, and for decades to come, those who saw the original New York cast insisted that no other leads ever offered quite the same magic. Jackson left the cast after just five months, and never had a comparable success -- Brian, who was already a popular stage star, remained one of Broadway's top leading men into the 1920s.
Savage sent touring companies to cities all across the United States, so Widow-mania spread quickly. It eventually seemed as if "The Merry Widow Waltz" was playing on every piano and Victrola in the United States. A wide range of unauthorized "Merry Widow" merchandise soon appeared -- songbooks, oversized hats, shoes, cigars and even a popular style of corset. There was also a Merry Widow cocktail -- 1 1/2 oz. each of Gin & Sweet Vermouth, with a dash each of Pernod & Bitters, served strained over ice and garnished with a lemon twist.
1907 also saw the Widow and Danilo waltz their way to Stockholm. The following year they traveled to Copenhagen, Milan and Moscow. Their 1909 itinerary included Madrid, and the one European city which met the Widow with a palpable degree trepidation -- Paris.
Die Lustige Witwe was set in Paris, but the French were not exactly clamoring to see how Austrians depicted their beloved capital. Curiosity finally won out, and many attended the first night of La Veuve joyeuse at the Apollo Theatre on April 28, 1909 with openly proclaimed intentions of hating the show. As it turned out, the Paris production was well received and managed a respectable run of 186 performances.
In this version, Hanna became "Missia," an American raised in "Marsovie" -- and the French libretto specified that she be played with a combination English-Slav accent. This was done on the assumption that French audiences would have an easier time accepting an American woman as a millionaire. Count Danilo became a prince with gambling debts, which made his feelings about courting a rich widow even more complex. The final act was set in Maxim's -- not because the idea had already worked in London and New York, but because Parisian audiences would not accept anything less.
In 1910, The Merry Widow made its way to Brussels. In the years that followed, the show was produced in every city that made any claim to a theatre-going public. In Gold and Silver: The Life and Times of Franz Lehar (New York: David McKay Company, 1970, p. 129), Dr. Bernard Grun estimates that The Merry Widow was performed about half a million times in its first sixty years. Worldwide sales of sheet music and recordings both ran into the tens of millions. No other play or musical up to that time had enjoyed such a dazzling international commercial success.
In Vienna, Die Lustige Witwe has been revived numerous times -- an appropriate fate for the most popular Viennese operetta of all time. It remains a regular feature in the Vienna Volksopera's repertory, a giddy echo of the city's Imperial heyday. However, no one can accuse the Viennese of treating their most popular operetta as a sacred relic. The Volksopera released a complete live performance of this classic on CD, interpolating Offenbach's famous "Can-Can" from Orpheus in the Underworld. For better or worse, this has inspired the same interpolation in other productions worldwide.
London welcomed back The Merry Widow in 1923 for a 239 performance run, as well as further runs in 1924 and 1932. A 1943 revival racked up 302 performances. Most of these productions featured George Graves, the original West End Popoff. Madge Elliott and Cyril Ritchard starred in a 1944 staging, June Bronhill and Thomas Round headlined in 1958, and Lizbeth Webb and John Rhys Evans topped the short-lived 1969 London cast.

Jan Kiepura and Marta Eggerth in the 1943 revival, which proved a major favorite with wartime audiences.
Broadway saw only one commercial revival, staged by the New Opera Company in 1943. The perfect escapist treat for wartime audiences, this vaguely updated Widow featured Polish tenor Jan Kiepura and his wife Marta Eggerth in the leads, colorful sets by Howard Bay, and choreography by George Balanchine. Delighted audiences kept it running for 322 performances in the same year that Oklahoma brought a spirit of change to the musical theatre.
With the appearance of long playing records in the mid-20th Century, full length recordings of The Merry Widow appeared. Mostly in German, these LP sets helped to re-fuel international interest in Lehar's operetta. Major opera companies began adding the work to their repertories. Several of the world's greatest sopranos were delighted to find a role that allowed them to look glamorous, sing a show stopping aria ("Vilja" -- pronounced Veel-YA) and enjoy the rare luxury of a happy ending.