History of The Musical Stage
1970s III: A Chorus Line & More
by John Kenrick
(Copyright 1996; revised 2014)
(The images below are thumbnails – click on them to see larger versions.)
A Chorus Line: Concept Musical Supreme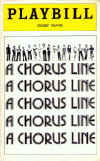 The original cast Playbill for A Chorus Line (1975), the most successful 1970s concept musical.
The concept musical reached its peak with A Chorus Line (1975 - 6,137 performances), the brainchild of Michael Bennett. He had Broadway chorus dancers (known in the business as "gypsies" because they migrate from show to show) share memories while a tape recorder ran. Working with these tapes, Bennett built a libretto with writers Nicholas Dante and James Kirkwood. Concurrently, composer Marvin Hamlisch and lyricist Edward Kleban developed a vibrant score. The concept involved a Broadway chorus audition where a director demands that his dancers share their private memories and inner demons. Some dismissed this as staged group therapy, but most found the results riveting.
A Chorus Line glorified the individual fulfillment that can be found in ensemble efforts. When the entire cast sang of being "One" while dancing and singing in rigid group formation, the effect was dazzling. Veteran chorus dancers Donna McKechnie, Carol Bishop and Sammy Williams won Tonys, as did the entire creative team. A Chorus Line's popularity crossed all lines of age and musical taste, smashing every other long-run record in Broadway history. Many who came of age during its run dubbed it the best musical ever. (For more on this landmark hit, see our special section A Chorus Line 101.)
One little-noted cataclysm of the 1970s occurred when the Shubert family's former attorneys Gerald Schoenfeld and Bernard Jacobs took over managerial control of the still-extensive theatrical empire. Veteran producer Stuart Ostrow later described how the atmosphere on Broadway changed when these two men "crowned themselves heads of the theater chain" –
"Their reign has lasted for nearly thirty years, during which time the amount of new musicals produced for Broadway has been drastically reduced. Coincidence? I think not. As landlords, they succeeded in changing the terms of a producer's rental contract, in demanding a larger share of the proceeds, and in many cases, in insisting on being co-producer. If you can't join 'em, enjoin 'em. The Shubert Foundation prospered, and the ranks of the independent producers thinned."
- Stuart Ostrow, A Producer's Broadway Journey (Westport, CT: Praeger, 1999), pp. 105-106.
By the time the Nederlander and Jujamcyn organizations had established themselves as owners of substantial parts of Broadway's theatrical real estate, the damage was done. Add to that the increasing demands of unions demanding and getting higher pay for actors, musicians, technicians and stage crew, and the costs of doing business on Broadway eventually quadrupled. Musical productions which had cost an average of $250,000 in 1970 were costing well over a million dollars by decade's end, and ticket prices began skyrocketing.
Revivals: "I Want to Be Happy"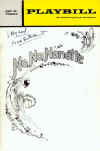 The 1971 revival of No, No Nanette initiated a new craze for nostalgic musical revivals. The Playbill cover features the effervescent art deco logo created by artist Hillary Knight.
In musical theatre, revivals had been commonplace ever since the repeated success of the The Black Crook in the late 19th Century. But as an epidemic of nostalgia swept through American culture in the 1970s, theatergoers embraced revivals with unprecedented enthusiasm. Shows and stars of the past appealed to the growing number of older tourists who felt alienated by the cultural changes taking place around them -- changes all too apparent in the increasingly harsh environment of midtown Manhattan.
The surprise hit that set the nostalgia trend rolling on Broadway was a revival of 1925's No, No, Nanette (1971 - 861 performances). Busby Berkeley was credited as "production supervisor," but the show was revitalized by director Burt Shevelove and choreographer Donald Saddler, with Ruby Keeler leading a cast of veteran stage and screen talents. This was not the original text, but a complete revision that overhauled the book, removed some songs and interpolated others. "Tea For Two" and "I Want To Be Happy" were intact, laced with snappy Charlestons and harmonic ensembles. Theatergoers welcomed this tap-dancing soufflé with an almost delirious sense of relief. Aside from a healthy Broadway run, the revised Nanette made millions from national tours, foreign productions and subsequent amateur rights.
At a time when fewer new musicals were being written, nostalgia quickly became big business on Broadway, and many a neglected star was dusted off to revive an old vehicle. Most of these productions had relatively brief runs in New York, then turned handsome profits thanks to extensive, well-attended national tours –
Gower Champion stepped in to turn an ailing revival of the 1919 hit Irene (1974 - 605 performances) into a solid audience pleaser for MGM veteran Debbie Reynolds. Her colleague Jane Powell took over the role on Broadway, then toured the show for several seasons. Due to costly revisions, the production did not repay its investment until the post-NY tour.
Jule Styne added some new songs to his 1948 hit Gentlemen Prefer Blondes, re-named it Lorelei (1974 - 320 performances) and made it a semi-new vehicle for original star Carol Channing, who toured in it for more than two years.
Gypsy (1974 - 124 performances) returned in a powerhouse revival imported from London. It brought Angela Lansbury her third Tony for Best Actress in a Musical and proved the show could succeed without original star Ethel Merman. Merman was not amused (who reputedly quipped, "The only thing I'd follow her with is a shovel!"), but audiences were thrilled, keeping Lansbury touring the road for years.
A handsome 20th anniversary My Fair Lady (1976 - 384 performances) featured original Pickering Robert Coote and veteran character actor George Rose in a Tony-winning performance as Alfie Doolittle. Original Higgins Rex Harrison starred in a less successful revival five years later.
Hello Dolly made two brief but well received returns starring Pearl Bailey (1975 - 45 performances, limited run) and Carol Channing (1978 - 152 performances) – both productions cleaned up on extended tours.
Zero Mostel made his final Broadway appearance playing Tevye in a revival of Fiddler on the Roof (1976 - 168 performances), receiving a record-setting salary and playing to packed houses across the country. His uncontrolled scene-stealing behavior delighted audiences and infuriated the cast.
Richard Kiley returned in a handsome revival of Man of La Mancha (1977 - 127 performances), winning fresh standing ovations. The score and book still received critical disdain, but audiences adored "The Impossible Dream" just as they had a decade earlier.
Arguably, the most successful revival of the decade was The King and I (1977 - 807 performances) starring Yul Brynner in his Tony and Oscar winning role of two decades before. This lavish production recaptured the excitement of the original, with Brynner more commanding than ever. He spent the next eight years touring the world with the show, racking up more than 4,600 performances as the King. By the time Brynner made a farewell return to Broadway (1985 - 191 performances), tired direction and the physical effects of this lifelong smoker's battle with lung cancer made the show seem less than its best -- but the fading lion still delighted audiences. Brynner died four months after the run ended, and was featured in a chilling posthumous public service television ad in which he said, "Now that I'm gone, I tell you: Don t smoke. Whatever you do, just don t smoke."
Fresh Looks & Fumbles
Other revivals did well by taking innovative approaches to proven material –
Hal Prince restaged Leonard Bernstein's unsuccessfu1 1956 operetta Candide (1974 - 740 performances) as a wacky Off-Broadway farce, underplaying the operatic aspects of the score and stressing physical comedy. This rollicking production delighted the critics, moved to the Broadway Theater and ran for two profitable years.

Songs from the Princess Theatre musicals were re-hashed into a well-received version of Jerome Kern's 1915 hit Very Good Eddie (1975 - 307 performances). The staging invoked the intimate spirit of the original, adding spirited new choreography by newcomer Dan Siretta. After debuting at Connecticut's Goodspeed Opera House, this charming production enjoyed a Broadway run and became a favorite with amateur groups.

An all-black Guys and Dolls (1976 - 241 performances) ran for several months despite uneven reviews. The glorious Frank Loesser score was adapted to gospel, soul and disco rhythms – audiences enjoyed the results, but the Loesser estate was not amused. Future productions restored the songs to their original formats.

Despite these successes, the revival trend was far from foolproof. Some notable failures:
Bi-racial casting could not ignite an otherwise unremarkable revival of The Pajama Game (1973 - 69 performances).

Alan Jay Lerner and Frederick Loewe adapted their 1958 screen classic Gigi (1973 - 110 performances) for Broadway. Despite the stellar presence of Alfred Drake, Maria Karnilova and Agnes Moorhead, the production suffered from pedestrian direction and lost a fortune.

A lavish revision of the 1927 college football hit Good News (1975 - 51 previews, 16 performances) with Alice Faye and Stubby Kaye toured for more than a year. Sensing trouble, the producers extended Broadway previews for seven weeks, but a merciless critical barrage forced the show to close in a matter of days.

A luscious Houston Grand Opera production of Porgy and Bess (1976 - 126 performances) wowed critics but proved a tough sell with ticket buyers used to lighter fare. Thanks to the high cost of staging an opera eight times a week, this handsome revival soon closed at a loss.

And what about new book musicals? The form came back with a vengeance in the late 1970s – a time when new forces set the future course of the musical theatre.