History of the Musical Stage
The 1980s: "The Wind Begins to Moan"
by John Kenrick
(Copyright 1996, revised 2014)
(The images below are thumbnails – click on them to see larger versions.)
"The Lullaby of Broadway"
The first musical super-hit of the 1980s was a musical comedy based on a classic Busby Berkeley film. 42nd Street (1980 - 3,486 performances) re-united producer David Merrick and director Gower Champion. Both had suffered a few failures and very much needed a hit to restore their reputations. The backstage plot about a chorus girl who takes over for the lead actress on opening night ("You're going out there a nobody, but you've got to come back a star!") was left in place, while the film score was augmented with other vintage songs by composer Harry Warren and lyricist Al Dubin.
Champion's seamless, stage-filling sense of spectacle made this the biggest, boldest musical comedy in decades. When the curtain slowly rose to reveal forty pairs of tap-dancing feet, the star-studded opening night audience at the Winter Garden cheered. With the help of co-choreographer Randy Skinner, Champion (who had no tap training) followed this number with a series of tap-infused extravaganzas larger and more polished than anything Broadway really had in the 1930s. Jerry Orbach (as the dictatorial director), Tammy Grimes (as the temperamental star) and Lee Roy Reams (as the bright eyed juvenile) added to the dazzling impact of the show. After years of frustration, Champion was back on top.
When David Merrick came onstage after multiple curtain calls to say, "This is a very tragic moment," the opening night audience laughed. Then Merrick explained that Champion had died of cancer hours before the performance. Cast and audience were plunged into shock, and Merrick took leading lady Wanda Richert (said to be one of Champion's real-life love interests) into his arms as the curtain fell. Merrick made sure that this all took place before an army of reporters and cameras, guaranteeing headlines and national news coverage the next day. Merrick manipulated a tragedy to give 42nd Street extraordinary press. As the years went by, he had the gall to advertise the production as "David Merrick's 42nd Street," but it was Champion's (and Skinner's) triumph.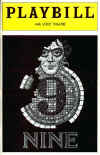 The original cast Playbill for Nine.
The early 1980s saw some exciting new book musicals both on and off-Broadway. In a variety of styles from flashy spectacle to intimate spoof, each was fresh and entertaining. Some were authored by seasoned professionals, some by exciting newcomers – all were reassuring signs that the American musical theatre was thriving. The more memorable success stories of the era include several musicals that are still frequently produced –
Barnum (1980 - 854 performances) was a rousing circus-style bio of the legendary showman. The raucous Cy Coleman- Michael Stewart score and leading man Jim Dale got the raves, and co-star Glenn Close got her first taste of stardom. "The Colors of My Life" and other songs delighted audiences, but the rock-happy pop music world had no interest in anything written for Broadway, and Coleman's finest score never got the attention it deserved.
However, many book musicals – including new shows and several high profile revivals – failed quick and hard in the early 1980s. Some examples –
Onward Victoria (1980 - 1 performance) told the story of Victoria Woodhull, a feminist who ran for President in the 1800s despite a scandalous private life. Lavish sets and costumes could not make up for a lifeless score and humorless book, and the show closed on opening night.

Oh Brother (1981 - 3 performances) had plenty of laughs, a great cast and a good score, and those who saw it in previews tended to love it. But re-setting the Shakespearean plot used in Rodgers & Hart's Boys From Syracuse in the strife-torn Middle East did not amuse the critics, and the show closed in days.

Brigadoon (1980 - 141 performances) returned in a flawless production but lacked an established star to attract attention. Martin Vidnovic and Meg Bussert's passionate rendition of "Almost Like Being in Love" remains one of the grandest things this author has ever seen on a stage, but this Brigadoon faded into the mist without returning its costs.

My Fair Lady (1981 - 124 performances) returned for its 25th Anniversary with original star Rex Harrison as Henry Higgins. But "sexy Rexy" was in his 70s, and some of the supporting cast was embarrassingly weak. To make matters worse, the show had enjoyed a far better revival just five years before. Charitable reviews couldn't keep "the greatest musical of the 20th Century" running beyond four months of tepid business.
The problem with these failures seemed to be that the producers had not bothered to ask why anyone would pay $25 (the top Broadway ticket price at that time) to see their particular project. Lost of folks wanted to see Rex Harrison in his most famous role, but when word got out that the production surrounding him was uninspired, theatergoers took their dollars elsewhere.
Cats: "The Wind Begins to Moan"
The Cats logo glowered over the entrance to Broadway's Winter Garden Theater for two decades.
Andrew Lloyd Webber and director Trevor Nunn reshaped the theatrical landscape with Cats (1982 - 7,485 performances), a musical based on T.S. Eliot's Old Possum's Book of Practical Cats. They emphasized aerobic dance, high-tech effects and heavy-duty marketing tactics. Cats premiered in London, then came to New York – where it forced 42nd Street out of the Winter Garden and over to the Majestic Theatre. Lloyd Webber was so certain of the show's success that he co-produced it with Cameron Macintosh, a move which made both men millionaires.
More a revue than a book musical, Cats depicted a gathering of felines in a garbage-strewn alley where one cat will be allowed to ascend (on an oversized hydraulic tire) "the heavy-side layer" – i.e., kitty heaven. The first and last fifteen minutes were so dazzling (thanks to heavy-duty lighting effects and prancing pussies) that few complained about the two tedious hours that yawned in-between. Cats cleaned up at the Tonys, with Best Book going to the long-dead Eliot, and Best Featured Actress going to Betty Buckley as the bedraggled feline Grizzabella.
The revolutionary thing about Cats was not the show on stage – it was the marketing. Before this, most musicals limited their souvenirs to photo programs, songbooks and T-shirts. Cats splashed its distinctive logo (two yellow-green feline eyes with dancing irises) on coffee mugs, music boxes, figurines, books on "the making of" the show, greeting cards, baseball caps, satin jackets, Christmas ornaments, stackable ornamental tins, stuffed toys, matchboxes, key chains and pins, to name just a few. The overwrought ballad "Memory" and those feline eyes were damn near everywhere.
Like a theatrical cancer, Cats spread to places that had not seen professional theatre in years. From Vienna to Oslo to Topeka, dancers in furry spandex and garish make-up proved that "Jellicles can and Jellicles do" rake in a fortune, and that auxiliary marketing can boost a show's profits by millions of dollars. Cats was that increasing rarity, a musical one could take children to -- a fact that added millions of dollars to (pardon the pun) the kitty. The kids might die from vapidity poisoning, but they wouldn't be exposed to anything dangerous – like a coherent idea. The show ran into the next century, becoming the longest running show in Broadway history.
The American theatre responded to this mammoth "meow" with a glorious roar, and the 1983-84 season brought a clash of Broadway titans.