History of The Musical Stage
1980s II: Triumphs & Embarassments
by John Kenrick
(Copyright 1996; revised 2014)
(The images below are thumbnails – click on them to see larger versions.)
Broadway's Last Great Season?

George Hearn, Gene Barry and the original Cagelles from Jerry Herman's La Cage Aux Folles appeared on the cover of the Theatre World annual.
During the 1983-84 season, five highly anticipated new musicals lined up funding and reached Broadway. It was the most impressive array of original works to share a season in two decades.
Lyricist-librettist Richard Maltby and composer David Shire's Baby (1983 - 276 performances) was an underrated concept musical about three couples facing the life-altering challenges of conception, pregnancy and childbirth.

Composer Henry Krieger and lyricist Robert Lorick scored with The Tap Dance Kid (1984 - 669 performances), an original story about a African American teenager who dreams of a dance career despite his father's disapproval. Danny Daniels won a Tony for his energetic choreography.

Composer John Kander and lyricist Fred Ebb's The Rink (1983 - 233 performances) paired Chita Rivera and Liza Minnelli as a battling mother and daughter battling over the sale of their family-owned roller skating rink, reliving memories and heartaches along the way to their eventual reconciliation. Rivera received a long-overdue Tony for Best Actress in a Musical, and soon afterwards an ailing Minnelli left the show for her first stint in drug rehab.

Stephen Sondheim's Sunday In the Park With George (1984 - 604 performances) took an innovative look at the commercial and emotional challenges of being an artist, starring Many Patinkin as pointillist painter Georges Seurat and Bernadette Peters as his lover Dot. The action then switched to modern times, with Seurat's grandson facing the same issues while an aging Dot looks on. Audiences cheered for a breathtaking first act finale that recreated Seurat's "Sunday Afternoon on the Island of the Grand Jatte" while the cast sang the ravishing chorale "Sunday."

Jerry Herman's La Cage Aux Folles (1983 - 1,761 performances) was a defiantly old-fashioned book musical that broke new ground by focusing on a gay couple dealing with their son's marriage into a bigoted politician's family. Playwright Harvey Fierstein provided a hilarious book, and Arthur Laurents helmed one of the most entertaining musicals Broadway had seen in years. Numerous Tony awards (including Best Musical and Best Score) ended years of creative frustration for Herman, the composer of Hello Dolly and Mame. George Hearn won a well-deserved Tony for his performance as the loveable drag queen Albin, and won cheers with his renditions of "I Am What I Am" and "The Best of Times is Now."
La Cage took the Tony for Best Musical, but with so many fine new musicals debuting on Broadway, theatergoers were the real winners. This giddy year for musical theatre fans ended all too soon. The following season brought only one original hit – Big River (1985 - 1,005 performances) a refreshing adaptation of Mark Twain's Huckleberry Finn with a score by country western composer Roger Miller. With no effective competition, it won the Tony for Best Musical and ran for three years.
And then there was a sudden, chilling silence. New American musicals still appeared on Broadway, but they had trouble attracting a sizeable audience. For the first time since Oklahoma, a full decade would go by before a new American musical would pass the 1,000 performance mark. What happened?
Broadway was now a small subculture ignored by mainstream media and the general public. Ticket prices continued to soar, and with popular music ignoring showtunes altogether, it became all the more difficult to get the public to notice anything but each season's biggest Tony Award winning hit – and even then, it could be a struggle to sell a new show. As several major composers (including Jerry Herman) and a number of veteran producers left the field, inexperienced newcomers mounted a series of costly disasters. Wildly ill-advised projects made it to Broadway, infuriating investors and audiences –
Into The Light (1986 - 6 performances) had a scientist examining the Shroud of Turin while worrying about his lonely son's overactive fantasy life with an invisible friend. This disjointed story, saddled with a dull score and ugly production, added up to an amazingly annoying bore. A campy chorus of tap dancing priests and nuns did nothing to enliven this one.

Big Deal (1986 - 77 performances) had veteran director Bob Fosse writing his own book and stringing together some Depression-era pop standards to tell a tale of bungling bank robbers. A few brilliant dances could not make up for an otherwise lifeless show. No one involved had the nerve to tell Fosse it wasn't working, leaving it up to the critics and public to classify this as the great man's only outright Broadway flop. Fosse spent the next year of his life staging an acclaimed revival of Sweet Charity, and suffered a terminal heart attack while directing the road company in 1987.

Rags (1986 - 4 performances) used an ambitious Charles Strouse & Stephen Schwartz score to tell the story of Jewish immigrants in the early 1900s. Metropolitan Opera diva Teresa Stratas sounded spectacular in the lead, but the massive production never got the strong direction it needed and remained a dull – if sometimes impressive – muddle.

Teddy & Alice (1987 - 77 performances) recycled some fine tunes by none other than "March King" John Philip Sousa, but the ludicrous script suggested that President Theodore Roosevelt's problems with his strong willed daughter Alice stemmed from a manic obsession with memories of his first wife. This groundless revision of history made for lame entertainment, despite a gallant performance by Len Cariou as Teddy. Setting Sousa tunes like "Stars and Stripes Forever" to dull pseudo-patriotic lyrics won few admirers.

Legs Diamond (1988 - 64 performances) proved that pop star Peter Allen was neither an actor nor a capable stage composer. Writing a pleasant pop tune is one thing – creating a compelling song that serves a story's dramatic needs is another.

Carrie: Redefining Disaster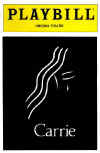 Nothing matched the spectacular failure of Carrie (1988 - 5 performances), which became the most celebrated musical flop of the late 20th century. Based on Stephen King's best-selling horror novel and subsequent hit film, the stage version was so weak that experienced producers refused to touch it. After landing in rejection piles for more than half a decade, the project was picked up by Britain's Royal Shakespeare Company (which had succeeded with Les Miserables) and German producer Friedrich Kurz.
A preliminary British staging received such a critical drubbing that Barbara Cook (playing the title character's mother) withdrew from the project, and many assumed Carrie was done for. But the determined Kurz brought the show to Broadway with young Linzi Hateley as Carrie and Betty Buckley taking over for Cook.
At New York previews, theatergoers reacted with either silent shock or loud catcalls of rage. A tiny but vocal minority cheered the show on, feeding false hopes. By combining an incoherent script, tacky special effects, hideous choreography and lyrics like "Kill the pig, pig, pig," Carrie set a new standard for "bad." The frustrating thing was that it also had moments of genuine beauty, fueled by Buckley and Hateley's powerful dual scenes. That is why Carrie has inspired decades of discussion, especially among those who did not get to see it.
Most who sat through Carrie agreed that it's failure was well deserved, but something boded ill for the theatre's future, as historian Ken Mandelbaum later explained –
"Carrie also had non-stop energy, and, unlike so many flops, was not dull for a second. But there was something ominous about it all, a feeling that it was playing to the lowest common denominator, to people who had never been to the theatre and would respond only to jolts of pop music."
- Not Since Carrie: 40 Years of Broadway Musical Flops (NY: St. Martin's Press, 1991, p.352)
With Broadway in creative disarray, the British were only too happy to take up the slack and regain the theatrical dominance they had lost at the beginning of the 20th century. Somewhere, the ghosts of Gilbert and Sullivan were laughing -- and possibly cringing a bit too.