A History of The Musical
European Operetta: 1850-1880
by John Kenrick
Copyright 1996; revised 2014
(The photos below are all thumbnails – click on them to see larger versions.)
In the Beginning
By the 1700s, two forms of comic opera thrived in Britain, France and Germany –
Low comedies borrowed popular songs of the day and rewrote the lyrics to suit a particular plot -- these works are also known as ballad operas, even though they are not "operas" at all. The best known example would be John Gay's The Beggar's Opera (1728), a scandalous tale of thieves and street whores that mixed barroom ballads with tunes by such composers as Handel and Purcell. (To read a sample scene from the libretto, click here.) Combining political and social satire, Gay's script depicted thieves, businessmen and officers of the law committing comparable crimes while hiding behind social pretensions. At a time when successful shows ran less than a week, The Beggars Opera racked up 62 performances -- a long-run record that would stand unchallenged for almost a century. The British government was so worried about the effect of Gay's comic barbs that they suppressed his next show, stifling what might have been the beginning of a new musical theatre trend.
High comedies featured new scores, convoluted romantic plot lines and (usually) upper class characters. Although the music was almost grand-opera in tone, the stories were essentially light-hearted and the melodies appealed to the popular taste of the time. Michael Balfe's The Bohemian Girl (1845) told of a nobleman's daughter raised by gypsies, and included the enchanting aria "I Dreamt That I Dwelt in Marble Halls." It remained a favorite through the late 1800s, and its music is still heard in classical recitals and concerts.
These entertainments were clear precursors for the musical as we know it. All that remained was for someone to bridge the gap between these forms. Early works by Herve (a.k.a. Florimond Ronger) and Adolphe Adam are considered by scholars to be the first light operas or operettas, but their works have been mostly forgotten. It was Offenbach who would capture the Western world's imagination, making musical theatre an international sensation.
Paris: Jacques Offenbach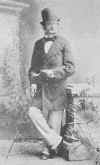 Jacques Offenbach during a visit to Philadelphia.
In the mid-nineteenth century, anyone producing stage shows in Paris was up against one hell of a competitor -- the French government. To make sure that nothing would outshine government sponsored grand opera productions, a law limited independent musical productions to one act works, with no more than two speaking or singing characters -- after much protest, that limit was grudgingly raised to three. One theatrical composer who managed to thrive in the face of these bizarre limitations was Jacques Offenbach. A Jew born in Germany, Offenbach emigrated to Paris as a teenager, where he became a celebrated cellist. In time, he began to compose for the stage, but wanted to create something lighter than the increasingly serious works of grand opera. He envisioned works along the lines that Adolphe Adam and Herve had followed, blending operatic vocals, catchy melodies and comic plots.
When some of Offenbach's early scores were rejected by the well-financed Opera Comique de Paris, he decided to serve as his own producer. Realizing that Napoleon III's Exposition Universalle would bring massive crowds to Paris, Offenbach raised the necessary funds, leased the shabby, fifty seat Theatres des Bouffes-Parisiens and presented a series of one-act comic musicals that he called operettes, a title that suggested a form lighter than opera but with some serious musical intentions. To limit competition with state funded productions, an Imperial edict limited Offenbach to no more than three singers -- and perhaps one or more mute characters to flesh-out the cast, an expansion that required a special government permit. As was the custom of the day, a bill at the Bouffes-Parisiens consisted of several pieces, including two or more one act operettas. The premier bill on July 5, 1855 included a curtain raiser, a pantomime, and two one act operettes, the most memorable of which was Les Deux Aveugeles (The Two Blind Men) -- involving two unscrupulous Parisian beggars who pretend blindness.
Offenbach's operettes proved so popular that he soon leased a 400 seat theatre, re-christened it the Bouffes-Parisiens (to prevent confusion), and continued producing into the winter. His breakout hit was Ba-ta-clan (1855), a one act operette which told of "Che-i-noor" (China) being ruled by a trio of Chinese who turn out to be hapless Parisians in disguise. This spoofed everything from contemporary politics to grand opera conventions, and soon attracted some of the most influential people in France. In a matter of weeks, Ba-ta-clan's sparkling tunes were heard in almost every Paris dance hall and ballroom, where they were embraced by all levels of French society. The piece was frequently revived in Paris, London and New York for decades to come, and Offenbach eventually rewrote it as a full-length musical with a cast of eleven.
Offenbach gathered a solid company of singing actors, most notably Hortense Schneider, a volatile young soprano who would star in many of his finest works. After her debut in Le Violoneux (1856), she became a full blown star in Madame Papillon (1856). Schneider was not a classic beauty, but her powerful singing voice and knack for delivering comic dialogue laced with sexual innuendo made her the toast of Paris for the next quarter century. Every inch the diva, her behavior offstage was often scandalous -- she had so many royal lovers that she was openly referred to as "the passageway of princes." Schneider must have been impressive on stage, or the equally temperamental Offenbach would not have tolerated her frequent tantrums.

Offenbach's favorite leading lady, soprano Hortense Schneider in costume as The Grand Duchess of Gerolstein.
Offenbach's melodies became popular all over Europe. In 1858, the three singer limit was finally lifted. The Opera Comique now clamored for Offenbach's services. He collaborated with librettists Henri Meilhac and Ludovic Halevy on Orfee aux Enfers (Orpheus in Hell - 1858). It was the first full-scale operetta, combining grand operatic singing with popular-style melodies and a lighthearted plot in a two act format. Spoofing the Greek legend of Orpheus descending into hell to save his beloved Eurydice (poking fun at Gluck's grand opera about the same characters), Orfee and its catchy "Can-Can" became an international sensation.
Altogether, Offenbach composed over one hundred operettas. Translated into various languages and produced all over Europe and America, the best of these works offered a rich vein of political satire and catchy melodies. Offenbach's international hits included –
La Belle Helene (1864) took a comic look at the legendary of Helen of Troy.
La Grande-Duchesse de Gerolstein (1867) is a coquettish monarch with a dangerous weakness for men in uniform. She promotes a handsome private to command her armies, only to dispose of him when she realizes his heart belongs to a simple country girl. This biting satire of royal misbehavior enjoyed tremendous international success and gave Schneider her most celebrated starring role.
La Perichole (1868) had Schneider as a lovely Peruvian street singer who must make a romantic choice between a poor artist and the Spanish Viceroy.
Les Brigands (1869) depicted a band of thieves scheming to rob a womanizing provincial nobleman.
These operettas and their songs became favorites all across Europe and even in North America, making Offenbach a global celebrity. When defeat in the Franco-Prussian War (1870) ended Napoleon III's reign and compromised Offenbach's popularity in Paris, he toured Britain and the United States, where he was greeted as a popular hero by people of all classes. He enjoyed renewed approval for Madame Favart (1878) which built a fantasy plot around the real-life French actress Justine Favart. At the time of Offenbach's death in 1880, he was working on the grand opera Tales of Hoffman. Completed by a colleague, it is now Offenbach's most frequently performed score. Outside of France, his operettas are rarely heard today, and what a sad loss that is. A treasure trove of melody and humor lies in Offenbach's lighter works, waiting to be rediscovered.
Several composers carried on the tradition of French operetta. Among the most popular was composer Charles Lecocq, whose most lasting hit was La Fille de Madame Angot (1872). The story involves Clairette, an orphan girl who spurns a middle class marriage in hopes of true love only to get entangled in a revolutionary plot. It premiered in Brussels, where an unprecedented 500 performance run led to successful productions worldwide. It offered a melodic score, several witty plot twists, and two stellar prima donna roles for the title character and her former schoolmate Lange, who competes with her for the same man. The most popular musical of the 1870s, it is rarely even mentioned -- let alone performed -- outside of France today.
The French operettas of Offenbach, Lecoq and their contemporaries were the most frequently performed musicals from the 1850s to the early 1880s. Aside from triumphant receptions in London, these musicals were frequently revived on Broadway, some a dozen times or more. Through the 1870s, French operetta accounted for up to half of the offerings in a typical New York theatre season. So the impact of French operetta on the taste and artistic expectations of Viennese, British and American audiences was tremendous. The works of Strauss, Gilbert & Sullivan and many American stage composers were clearly influenced by their Parisian predecessors.
Vienna: Johann Strauss II
Viennese audiences embraced the works of Offenbach with such enthusiasm that their native composers were soon compelled to write opera bouffes of their own. Franz Von Suppe took the lead with such home grown hits as Die Schone Galathee (The Beautiful Galatea - 1865), but Vienna's most memorable operettas of this period came courtesy of "The Waltz King," Johann Strauss II. Strauss was was the most popular musician of his time, creating waltzes and polkas which set the dance beat everywhere from Moscow to Boston. He admired Offenbach's operettas and made no secret of his desire to write one of his own. Initial efforts brought mixed results, primarily due to mediocre librettos. Then a Viennese librettist brought Strauss a script based on a play by Offenbach's librettists Meilhac and Halevy. Thanks to some creative rewriting, this piece captured the spirit of contemporary Vienna.
Die Fledermaus ("The Bat" – 1874) is the story of a man seeking harmless revenge for the night a friend got him drunk and left him by a Vienna roadside dressed in a bat costume. The perpetrator of that practical joke is tricked into flirting with his own wife at a masked ball, where mistaken identities abound. Despite the amusing plot and luscious Strauss melodies, Vienna was only modestly enthusiastic about Die Fledermaus. The piece won acclaim in Berlin, and was produced in all major theatre cities with varying degrees of success. But it was not until the early 20th Century that audiences recognized the piece as a cultural landmark. Strauss would write ten more operettas in years to come, but Die Fledermaus remains his most frequently performed theatrical work, and is a staple in operatic repertories worldwide.
Carl Milloker (Der Bettlestudent/The Beggar Student - 1882), Karl Zeller (Der Vogelhandler/The Birdseller - 1891) and other Viennese composers continued to write operettas after Strauss, stressing lush melody and replacing social satire with buffoonery. Popular in their day, these tuneful operettas barely merit footnotes now. It would not be until the early 20th Century that Vienna would give the world another mega-hit with Franz Lehar's Die Lustige Witwe (The Merry Widow - 1905).
The British would eventually take up Offenbach's baton and bring comic operetta to new S, but for most of the 19th Century their primary musical entertainment was a form that contributed a great deal to the future sound and spirit of musical theater – the music hall.