History of The Musical Stage
Stage 1960s I: "Soon It's Gonna Rain"
by John Kenrick
(Copyright 1996; revised 2014)
(The images below are thumbnails – click on them to see larger versions.)
"Soon It's Gonna Rain"
The Broadway musical started the 1960s with a roar and ended them with something akin to a nervous breakdown.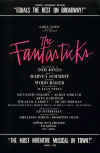 A publicity flyer for the original cast of The Fantasticks, which became the longest running musical in theatrical history.
The decade's first and most enduring hit production was born Off-Broadway. The Fantasticks (1960 - 17,162 performances) told the story of two well-meaning fathers who manipulate their idealistic children into a storybook romance, only to learn that living "happily ever after" has its darker side. The score by composer Harvey Schmidt and lyricist Tom Jones includes "Soon It's Gonna Rain" and "They Were You." "Try to Remember" was introduced by Jerry Orbach, who narrated the show as the dashing El Gallo -- the first of many leading roles that he would originate over the next two decades.
The whimsical, intimate Fantasticks overcame mixed reviews and caught on with the public, but no one guessed that it would stay at Manhattan's Sullivan Street Playhouse for more than four decades, becoming the longest running musical in theatrical history. The show became an international favorite, seeing more than 11,000 productions in more than a dozen languages.
Composer Richard Rodgers provided words and music for the score of No Strings (1962 - 580 performances). As in the best of his work with the late Oscar Hammerstein II, Rodgers took an innovative approach (a string-less orchestra, musicians on stage) to a controversial topic. While in Paris, white writer Richard Kiley falls in love with black fashion model Diane Carroll, but they are ultimately torn apart because their interracial romance will be unacceptable back home in the United States. The lilting ballad "The Sweetest Sounds" was the highlight of an otherwise so-so score, but Rodgers won a Tony for Best Composer. His only other new stage musical in the 1960s was Do I Hear a Waltz? (1965 - 220 performances), a collaboration with lyricist Stephen Sondheim which became so acrimonious that both men stayed away from Broadway until the next decade.
Gower Champion: "You Gotta Be Sincere"

Chita Rivera and Dick Van Dyke flirt beneath a portrait of the title character in Bye Bye Birdie.
Dancer Gower Champion won an early Tony as director-choreographer of the successful revue Lend An Ear (1947 - 460 performances). Not coming from the usual show biz dance tradition (no tap, no kick lines, etc.), Champion used his background in ballroom-style dancing to give his musical sequences a fluidic, seamless look. After spending the 1950s primarily working in film with his wife Marge, Champion returned to Broadway as director-choreographer of the breakthrough stage hit Bye Bye Birdie (1960 - 607 performances). This youthful farce depicted the hype generated when an Elvis-like rock star kisses a contest-winning teenage fan before being drafted into the army.
Champion's all-encompassing sense of stage movement involved every cast member, set piece and prop. A memorable comic ballet had Chita Rivera -- as sexy secretary Rose Grant -- seducing a stage full of astounded (but ultimately enthusiastic) Shriners. Composer Charles Strouse and lyricist Lee Adams gave Broadway its first taste of genuine rock and roll in "One Last Kiss" and "Telephone Hour," but traditional showtunes like "Put On A Happy Face" and "Kids" made up the bulk of the score. The show and Champion received Tonys, as did featured actor Dick Van Dyke. Surprisingly, Rivera was overlooked by Tony voters, as she had been for West Side Story in 1957, and would be until 1984.
Champion enjoyed fresh acclaim when he directed Carnival! (1961 - 719 performances). Based on the MGM movie Lili (1953 - MGM), it told the story of a naive French orphan who learns about love and life when she becomes human co-star of a circus puppet show. Champion sent roustabouts and circus acts through the audience, using the entire auditorium as a performance space, but he recognized that the true power of the show lay in the title character's enchanting scenes with the hand puppets. Audiences of all ages melted when Anna Maria Alberghetti performed "Love Makes the World Go Round" with the little charmers -- and Alberghetti won a Tony for this, her only appearance in a Broadway show. Bob Merrill's score included the ballad "Her Face," sung by Jerry Orbach as the tormented puppeteer.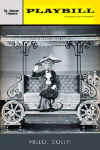 Champion's definitive 1960s triumph was Hello Dolly (1964 - 2,844 performances) a musical version of Thornton Wilder's comedy The Matchmaker. With a giddy score by composer-lyricist Jerry Herman and a superb libretto by Michael Stewart, it told the story of a shrewd widow who brings young lovers together and finds a husband for herself (irascible Yonkers store owner, Horace Vanderguilder) in 1890s New York. The role of Dolly was first offered to Ethel Merman, but she was still recovering from her long run in Gypsy, and declined. Nanette Fabray also passed, opening the way for Carol Channing (photo at left) to take on the most memorable role of her career. Producer David Merrick made the difficult pre-Broadway tour a nightmare for the entire creative team, threatening to replace most of them at one point or another. After extensive revisions, the show earned rave reviews in New York.
Champion's staging gave Hello Dolly! a stunning visual fluidity, evoking the gaslight era in a thrilling whirl of dancers and sets, capped by Channing's luminous Dolly. Herman's score caught the period to perfection, with "It Only Takes a Moment" as the standout ballad. The catchy title number became one of Broadway's all-time great showstoppers, with Channing descending a staircase to lead a line of waiters through a rollicking cakewalk. The number was considered a problem on the road, but Broadway's opening night audience demanded (and got) an encore. Choruses of apron-clad waiters have been escorting women of a certain age around runways ever since.
Almost every popular actress "of a certain age" played Dolly. Channing's Broadway replacements included Ginger Rogers, Betty Grable, Martha Raye and Phyllis Diller. An all-black cast headed by Pearl Bailey and Cab Calloway revitalized the show for hundreds of additional performances. At one point, Merrick claimed he wanted Jack Benny as a drag Dolly with George Burns as Horace, a bizarre yet tantalizing possibility that never got beyond the discussion stage. Mary Martin took the show to London, followed by a tour of the Far East. Ethel Merman was the original production's last Dolly, making her final Broadway appearances in a role that had been conceived for her. But Channing was the one who became forever identified with Dolly, appearing in several revivals and performing the role more than 4,000 times over the years.
Champion next directed I Do, I Do (1966 - 560 performances), with Mary Martin and Robert Preston turning in tour de force performances as a couple surviving fifty years of marriage. The Happy Time (1968 - 286 performances) boasted a Kander & Ebb score and stellar performances by Robert Goulet and David Wayne, but even Champion's innovative use of photographic effects and fluid staging (which brought him fresh Tonys for direction & choreography) could not overcome a humdrum book. Champion went on to a frustrating series of flops and near misses during the 1970s, including the beloved Mack and Mabel and the horrifying Rockabye Hamlet. He would end his career on an incredibly triumphant note with 42nd Street (1980 - 3,486 performances). Arguably Champion's greatest directorial achievement, it opened hours after his death. (More on this in our 1980s essay.)
British Musicals of the 60s: "Where is Love?"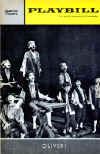 The orphans sing of "Food, Glorious Food" on the NY program cover for Lionel Bart's international hit Oliver!
While the 1960s saw the Beatles conquer the pop music world with their British brand of rock and roll, the London stage more or less remained in a creative slump that had plagued it since the end of World War II. Only three British musicals achieved international success during this decade, thanks to fresh writing and several electrifying performers –
With a heartfelt libretto and glorious score ("Consider Yourself," "Where is Love," "Oom-Pah-Pah," "As Long As He Needs Me") by newcomer Lionel Bart, and an ingenious double turntable set by designer Sean Kenny, Oliver! (UK 1960 - 2,618 performances) stressed the lighter elements in Charles Dickens novel Oliver Twist. Ron Moody as Fagin and Georgia Brown as Nancy left critics and audiences cheering. Brown repeated her role on Broadway (NY 1963 - 744 performances), with Clive Revill as Fagin. Six years later, Moody starred in a superb film version that won the Oscar for Best Picture. And why not? It was the most vibrant and dynamic British book musical since the days of Gilbert and Sullivan. Often revived, it remains a worldwide favorite.

Stop the World I Want to Get Off (UK 1961 - 485 performances) was an allegorical look at the emptiness of ruthless ambition. Co-written by Leslie Bricusse and Anthony Newley, it featured Newley as the clown-faced "Littlechap," who's lifelong search for happiness culminates in the disillusioned ballad "What Kind of Fool Am I?" After a Broadway production (NY 1962 - 555) met with similar success, Bricusse and Newley spent most of the decade working on less memorable Broadway and Hollywood projects.

Songwriter David Henecker's Half a Sixpence (UK 1963 - 677 performances) is rarely seen today, but its charming tale of an Edwardian clerk who inherits and loses a fortune made pop rock singer Tommy Steele London's top musical comedy star. When the show moved to Broadway (NY 1965 -512 performances), it boasted sensational new choreography by Onna White. A heavy-handed film version did this show no justice.
A witty, rock-flavored West End version of Chaucer's Canterbury Tales (London 1964 - 2,080 performances) delighted English audiences but failed with astonishing speed in New York (NY 1969 - 121 performances), and there was no attempt to bring Americans the tuneful British class system spoof Charlie Girl (London 1965 - 2,202 performances). Broadway musicals still dominated the art form, with transferred American hits clogging the West End through the end of the decade. But anyone who dismissed British musicals would be eating lots of crow (slathered with Coleman's English mustard) before the 1970s were over.
In the mid-1960s, Broadway produced a string of long-running hits. Then, everything changed forever as the moon moved into the seventh house "and Jupiter aligned with Mars . . ."